Enjoy a real luxurious spa-like experience with the new and improved Eco-Friendly Shower Head!
Impurities in your tap water will often dry out your skin and cause an imbalance in your oil glands.
Which is why we invented this!
With the purifying effects of the mineral balls included, our showerheads will help you restore balance, deleting 99% of the impurities in the water.
Health benefits include smoother skin, reducing oil secretion, and increasing cell viability. This is all possible through our 3 ball filtration system.
3 BALL FILTRATION SYSTEM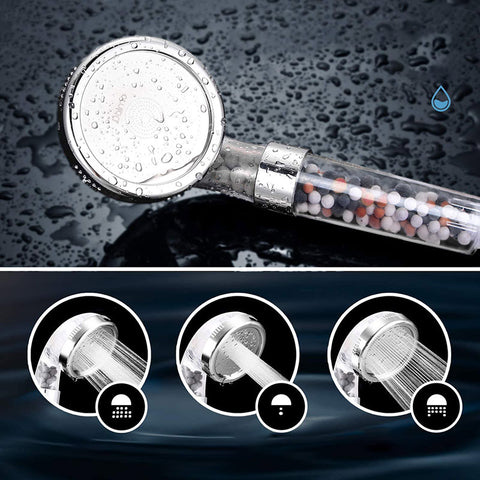 Anion Balls
Comprises of a variety of precious minerals that are all easily absorbed by the skin and make it look vibrant. The negatively-charged anion balls help soften your skin and most importantly, remove the impurities and harmful substances from the water.
Infrared Mineral Balls
The Infrared mineral balls filters the water from chlorine, heavy metals, bacteria, and other harmful substances. This will cause your cells to promote blood circulation, which delays skin aging.?
Calcium Sulfite?
A?calcium sulfite?element?is?the only way to remove 99% of the chlorine. Although less useful for chlorine, GAC and KDF filters remove other undesirable elements, while inhibiting the growth of algae, fungi, and mold.? ?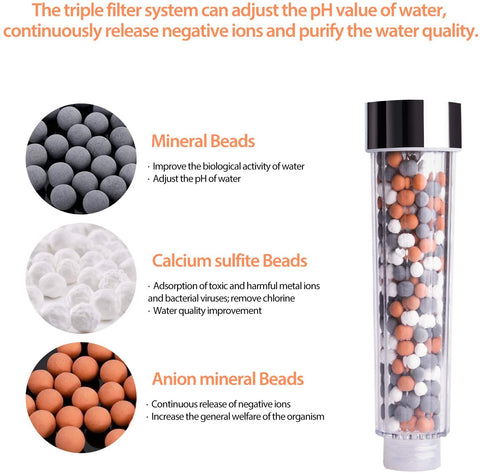 SAVE WATER, PROTECT YOUR POCKET
With Eco-Friendly Shower Head, you will be helping the?planet and your pocket?due to the revolutionary new?micro nozzle technology?that is designed to save?35% more water.?We made sure to not take away from the pressure.
BETTER CLEANSING
Our showerhead is more efficient by offering higher pressure with the same amount of water use. Our shower head will eliminate any type of soap, shampoo residue, dead skin, and scum easily.
ENHANCE YOUR SHOWER EXPERIENCE
Eco- Friendly Shower Head?is made to give you the proper spa experience every day in the comfort of your home!
With 3 different spray patterns (easily changeable) our shower head?gives you the chance to adapt the shower to your needs, personalizing your experience and enhancing your shower experience.
Feel revitalized and give the best you every morning!
FAST INSTALLATION
Forget about time-consuming installations or having to renovate your bathroom, The? Eco-Friendly Shower Head?installs in seconds?and is compatible with any standard hose.? ? ? ? ? ? ? ? ? ? ? ? ? ? ? ??
ECO-FRIENDLY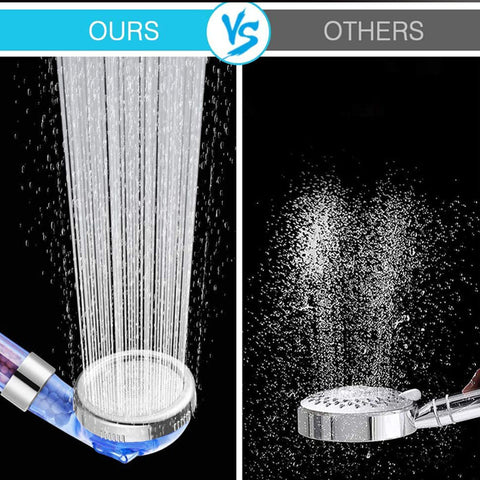 Save water while maintaining high pressure. Conserve up to 35% of your water and improve up to 200% of your water pressure at the same time!?
Saves?$227?in water costs?every year?*(avg. US household estimate)*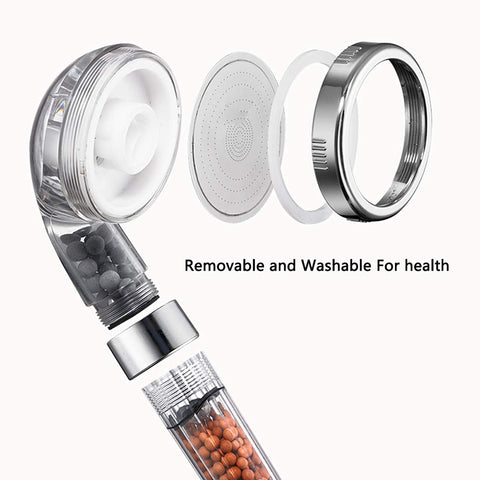 Solid build, no leaks. We designed the showerhead to be?transparent with a high-density filter. In that way, it will be?easy to disassemble and clean.
THREE SHOWER MODES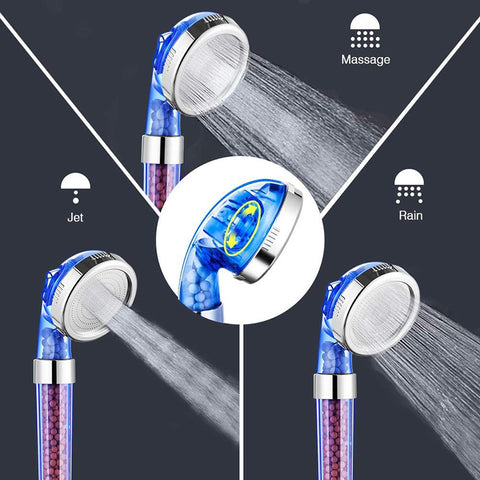 Each mode is a completely different shower experience for you. Easily switch between the modes that suit your moods by flicking the handheld showerhead rocker switch.
THREE?TYPES CHOICE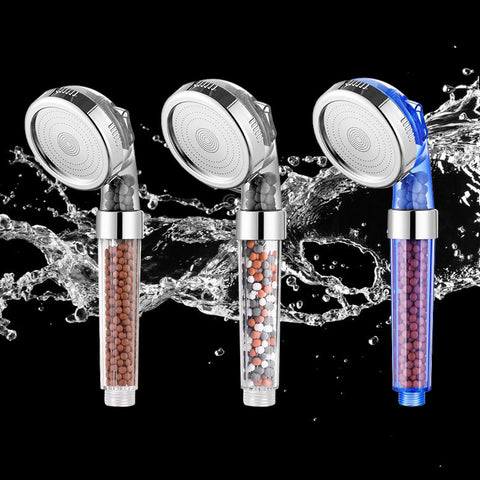 PACKAGE INCLUDES:
1* Eco-Friendly Shower Head?
Common Questions & Answers
Is my credit card information secure?
Yes. All your information is encrypted.
How often do I replace the beads??
We suggest that you replace the filter beads once every 6-9 months. Sooner if your water quality is poor.