Dropship 3D Mushroom Cloud Explosion Lamp
If you're a lover of science, bombs, explosions, nuclear reactions, war movies, Fallout, or anything else that might have to do with a nuclear explosion, you should probably have a lamp in your bedroom to show such love.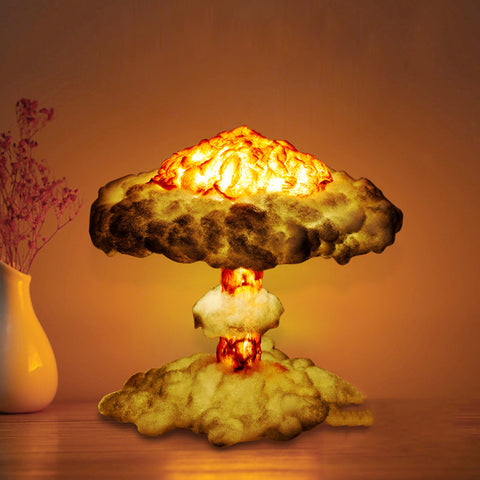 Well, you're in luck, because someone made a lamp that looks just like a nuclear explosion. 
The nuke lamp is a unique table top light that is shaped after the explosion seen from a nuclear bomb detonation. 
Designed using fluid dynamic simulations to create the shape, this unique lamp will be an instant conversation piece. 
A great gift idea for anyone in the military, the unique explosion lamp is made from fiberglass, metal, and plastic, along with metal wire, wood, and synthetic and real cotton. 
1.Specification:
Material: iron+cotton Cut-off voltage: AC100-220V Power: 5W Light color: warm white Dimensions: 260MM*300MM Weight: 1kg Plug:EU/UK/US Plug
2.The packaging includes:
1 x Mushroom cloud light 1 x User Manual
3.Features:
*Unique appearance:The unique mushroom cloud explosion shape imitating the atomic bomb explosion model is deeply loved by people. This is the best gift for children. *Stable and convenient to use in any room: 160 LED eye protection beads, warm light. *160 LED eye protection beads,comfortable warm light: Not only can provide beautiful warm light to illuminate your space, but also save up to 80% of energy, and can also be collected as handicrafts. *Applicable scene: It is very suitable for bedroom and living room, because it is gorgeous enough to provide soft warm lighting and warm and comfortable atmosphere.